Tips to Make a Small Home Feel Spacious
By Teresa Cowart in Blog,For Home Sellers,For Homeowners,Home Sale Preparation. Tagged: Home Improvement • Prepare Home for Sale • Teresa Cowart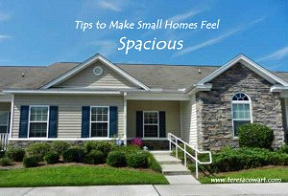 The square footage of a home, no matter how large, only matters if you've made the most of the space, especially when you're getting ready to put it on the market. Space is a commodity to most buyers, especially if your neighborhood is geared towards families like Richmond Hill, Ga. Even smaller homes can feel spacious by implementing a few of these tricks.
Avoid Clutter
The more you stuff into a room, the less spacious it will feel. Too many items become a visual distraction, making the room feel crowded and small. Carefully go through each room in your home, deciding which items should stay and which should get packed away.
Instead of displaying your entire collection of prized possessions, choose a grouping of three or five and display them together. Another tip to avoid feeling crowded is to leave some surfaces clear of decor. Not every flat space in the room needs to have something on it.
Avoid Too Many Colors
Any room will instantly feel and look more spacious by limiting the use of colors. Too many colors will cause a room to appear cluttered, in turn, making it feel closed in and smaller than it actually is. This goes not only for your furniture choices, but decor as well.
Instead of having a couch in blue, a chair in green, and a multi-colored wall hanging, opt instead for a matching couch and chair, with the same color hues in the wall hanging. For decor, stick to one or two colors to offset the furniture instead of a variety of many colors.
Dare I say go neutral? Don't worry, a neutral color palette may sound dull, but actually there are a ton of different neutral colors out there that can transform your space into something amazing!
Don't Use Area Rugs
While area rugs can be used to visually break up a space or simply for comfort under your feet, when it's time to sell your home, you'll want to remove them. Exposing as much of the flooring as possible will help the room to look more spacious, as well as give it a sense of cleanliness.
Choose Furnishings Wisely
Not every piece of furniture you've collected over the years has to be set up in every room of your home. Choosing the pieces wisely, the ones that match and the ones that allow for the best visual will help to make the room appear larger.
For example, in a smaller living room, use only one couch instead of the couch, love seat, and matching chair and watch as the room instantly gets larger.
In a bedroom, instead of putting lamps on the nightstands, mount swing arm lamps to the wall in order to keep the nightstand available for a decor item.
Use Mirrors
Mirrors are not only beautiful additions to any decor, they will allow a space to appear larger. A wall opposite a window is a perfect place to hang a mirror, as the light will then reflect off of it into the room, not only adding a feeling of spaciousness, but adding more light, another top-request from home buyers.
Don't Cover Windows
Opt for a non-heavy sheer that still allows some light to pass through. The less heavy a window treatment is, the more spacious the room will feel.
Do you have any tips of your own to make a small space feel larger?
Related Reading:
Worst Home Improvement Projects to Expect ROI
Your Total Home Organizing and Decluttering Guide: Houzz
More Articles for Home Buyers
More Articles for Home Sellers
Thanks for reading my blog! It is my goal as your full service real estate Realtor specializing in the Richmond Hill, Savannah, Pooler, and Hinesville – Georgia areas, to provide you with exceptional service at all times. My promise to you is to openly and honestly answer all your questions, help you navigate through the process and to make myself available to you day and night. I work for you and you are my priority. My local expertise and extensive real estate training and experience will benefit you whether you are serious about buying or selling a home at this time, or are a returning client checking out the many homeowner resources I offer. I am a "real" person and my reputation depends on every client, every deal, every day. I LOVE my job and it shows! You can also connect with me on my Facebook Page and/or Google Plus for area info and events, things to do, real estate news, home ownership tips, tips for both buyers and sellers, and so much more! I'm also on Pinterest!