Advantages of Selling Your Savannah, Ga home in Winter
By Teresa Cowart in Blog,For Home Sellers,Savannah Area. Tagged: Home Sellers • Savannah Ga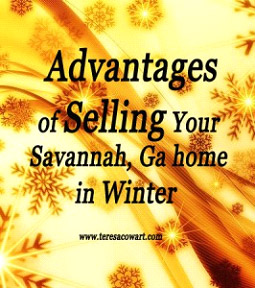 When is the best time of year to sell your home? I hear this question more than you think. I always respond, without hesitation, anytime of the year is a good time to sell your home in the Savannah area!
Winter for us is "the" advantage because we don't have to wait for nice weather in order to accommodate or please the seasonal buyer. I never tire of hearing relocation clients say how much they will enjoy the mild winter temperatures, consistently averaging between 40 and 60 degrees F. This can give you, the home seller, a wonderful advantage that others don't have.
Other advantages to consider:
The motivated buyer.
Buyers that have children who are still in school typically choose to move towards the end of the school year and throughout the summer. What does this mean for you? If you're selling during the winter season, the pool of potential buyers are typically more motivated. After all, why move your children to another school mid-year if you don't have to.
Less competition.
Most home sellers wait to list until the spring, when there are more active buyers. But listing in the winter means you are up against less homes for sale in the same area. Combine that with motivated buyers and it's a win-win.
Thinking outside the box.
The cooler months bring with them the advantage of the holidays! A tastefully decorated and staged home during this season can be just what potential buyers need to picture their family living in your home.
More Articles for Home Buyers
More Articles for Home Sellers
Thanks for reading my blog! It is my goal as your full service real estate Realtor specializing in the Richmond Hill, Savannah, Pooler, and Hinesville – Georgia areas, to provide you with exceptional service at all times. My promise to you is to openly and honestly answer all your questions, help you navigate through the process and to make myself available to you day and night. I work for you and you are my priority. My local expertise and extensive real estate training and experience will benefit you whether you are serious about buying or selling a home at this time, or are a returning client checking out the many homeowner resources I offer. I am a "real" person and my reputation depends on every client, every deal, every day. I LOVE my job and it shows! You can also connect with me on my Facebook Page and/or Google Plus for area info and events, things to do, real estate news, home ownership tips, tips for both buyers and sellers, and so much more! I'm also on Pinterest!